An introduction To Collins Law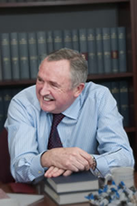 Welcome to Collins Solicitors in Watford. When I founded the firm in early 1995, it was with a commitment to create a top level professional legal resource which at the same time extended warmth, friendliness and ease of communication (no legalese spoken here!). I wanted to ensure we could provide a listening ear, a professional shoulder to lean on and a voice to speak up for you in situations when you couldn't. Come and talk to us and see if I've succeeded.
We can help you with:
Commercial Litigation; Clinical Negligence; Family Law; Personal Injury; Conveyancing, Wills & Probate, Environmental Law; Agency; General Contract; Consumer Litigation; Transport Litigation

To find out more about us, click on the relevant department above.