Elaine O'Brien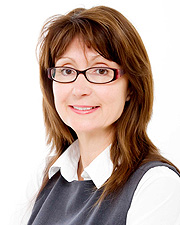 Elaine O'Brien has been specialising in Family Law since November 2000. Her caseload is a mixture of private and publicly funded work. She makes a particular point of staying abreast of the fast moving Legal Services Commission (LSC) practice regulations, so is readily able to assess whether clients are eligible for legal aid.
Elaine helps clients through all aspects of divorce, including ancillary property and financial issues. She is highly experienced in handling and resolving residence, contact and other child related issues which may arise following a marriage or relationship breakdown. Elaine is a valuable source of support and help to vulnerable clients in abusive relationships and those in need of the Court's protection. She has close links with the local county court and CAFCASS, contact centres, accredited mediation services and has also advised at Watford Women's Centre.
As a Fellow of the Chartered Institute of Legal Executives and a member of Resolution, Elaine is committed to promoting good practice at the same time as finding practical and conciliatory solutions to family disputes. She enjoys working closely both with her clients and with the rest of the Family Law Team at Collins Solicitors.
Contact Elaine on eobrien@collinslaw.co.uk